VietNamNet Bridge – Hanoi will officially sell bio-fuel E5 at 42 petrol stations from next month onwards, according to the municipal Department of Industry and Trade.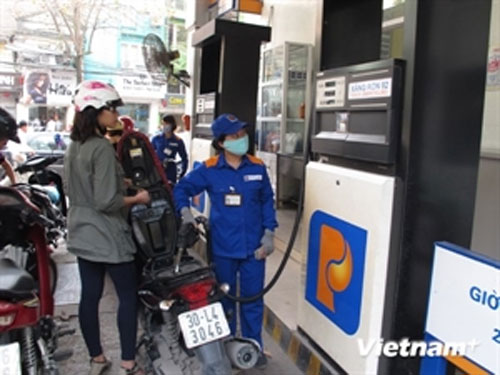 Illustrative image. Photo: VNA
Specifically, the city will distribute the bio-fuel, which is made up of unleaded gasoline and 5 percent ethanol, at 28 filling stations in December, and at 14 remaining stations in next February.
Since 2008, the bio-fuel was sold by the Hanoi Oil and Gas JSC under the PetroVietnam Oil Corporation (PVOil Hanoi) in five out of its eight outlets.
Earlier in September, Quang Ngai province took the lead in the sale of the bio-fuel, replacing the traditional Mogas 92. Da Nang City and Quang Nam province also distributed gasoline E5 from October.
From December 1, 2015 onwards, the fuel will be sold nationwide at all filling stations.
According to the Vietnam Oil and Gas Group (PetroVietnam), the total consumption of E5-RON 92 nationwide between August 2010 and August 2014 reached 105,940 cu.m. In the first eight months of this year, the volume hit 31,000 cu.m, equivalent to the figure of the whole 2013.
Communication work should be enhanced further to raise public awareness of the benefit of using gasoline E5, said Tran Thi Phuong Lan, Deputy Director of the city's Department of Industry and Trade said.
HCM City to sell bio-fuel this month
Starting from November 28, HCMC will sell bio-fuel E5, a mixture of 95% petrol and 5% ethanol, on a pilot basis at several filling stations around the city, according to the municipal Department of Industry and Trade.
Next week, the city will meet with fuel wholesalers, dealers, transport firms, and relevant departments to discuss the pilot launch of E5 bio-fuel in the city, the department's deputy director Le Ngoc Dao told a meeting in the city on November 18 on bio-fuel distribution.
According to the plan, E5 RON 92 petrol will be sold on November 28 and relevant departments will announce the list of stations selling the petrol in the city so that customers can easily buy the product.
Early next month, stations which have registered to sell the bio-petrol with the industry-trade department will start selling the product officially.
Vietnam National Petroleum Group (Petrolimex), the nation's leading fuel trading firm, has pledged to sell the E5 RON 92 petrol at five of its stations from early next month.
Most wholesalers said they can only support dealers selling the bio-petrol the costs for transferring from the normal petrol to the bio-fuel and cleaning up their petrol tanks.
In the initial phase, the city will sell the new fuel at stations in the registration list only, and will expand the number of stations selling it after a certain period of distributing the product around the city.
VNA/SGT
Related posts