VietNamNet Bridge – Australian born Fleming Belinda Anne has worked as a pilot for Vietnam Airlines for 7 years following brief stints in Singapore, Malaysia and even India, and now calls the S-shaped country her second home.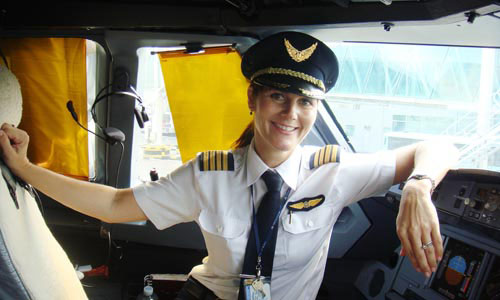 The Australian pilot says she is happy to live in Vietnam and work for Vietnam Airlines (Photo: VNE)
Anne has cherished a dream of becoming a pilot ever since she was three or four years old. She recalls as a child always looking up to the sky seeing planes flying over her head and dreaming of one day making flying her career.
Receiving strong support from her father, an experienced pilot, Anne enrolled in an aviation course and got an Airline Transport Pilot License (ATPL) – the highest level of aircraft licensure when she was just 21 years old.
When Vietnam Airlines offered her a job, she was working for an India-based company, receiving a high salary and other bonuses. Accepting the offer meant taking a significant reduction in pay.
Weighing the pros and cons of the plan, Anne and her husband decided to accept the offer and move to Vietnam where she would have more challenging opportunities to test her aviation skills. In addition, Vietnam was a more convenient location, close to both her home country (Australia) with convenient access to Belgium, her husband's homeland.
The longer she has lived in Vietnam, the more she realises that it was her correct choice.
Vietnam is a wonderful nation, Anner says, adding the couple had not lived in any country outside Australia for more than three years, except for Vietnam.
Anne recalls she was first impressed by the busy traffic and crisscrossed electric wire systems in HCM City which she says look very crazy. However, she quickly adapted to it, because she learnt to drive a motorcycle when she was young.
The couple purchased a second-hand motorbike and travelled the length and breadth of HCM City to acquire first-hand experience of local people's daily life.
Local people are very friendly and hospitable, Anne says, recalling her feelings whenever she enters any restaurants in the city, saying "hello" to staff and receiving warm welcome from them.
The 37-year-old pilot says although she has worked for Vietnam Airlines for several years, she receives lucky money from her boss – a fine Vietnamese custom when the Lunar New Year festival comes that she did not experience in other countries.
Anne confides her husband and her love Vietnam because the country has many beautiful places worth seeing.
The Central Highland resort city of Da Lat is Anne and her husband's top choice for relaxation. The couple often take an early flight to Da Lat if time permits, to enjoy fine weather, delicious dishes, fresh air, and breath-taking views.
Con Dao, Phu Quoc and Phan Thiet are also on her list of key tourist destinations.
Anne says she is lucky to have her husband work as a pilot for Vietnam Airlines. Her husband often flies to Europe while Anne flies to destinations in Asia. They have seven days off each every month and try to arrange and spend two days off together.
They make use of free time travelling to Da Lat to play golf or touring other places in Vietnam. When she stays without her husband, she often goes shopping, chats with friends, or drinks at expensive bars in the city. On special occasions, she flies home to see her parents in Australia or travels far away from Vietnam.
Anne says she can fly any types of aircraft, from A320s, A321s to the current A330s, and she hopes to master the most modern A350 that Vietnam Airlines is due to receive from Airbus next year.
She reveals that the career requires a pilot to have excellent health because he is familiar with different time zones. To maintain her physical strength and reduce stress, Anne does gym four times a week and plays golf.
Anne is one of the 10 female pilots of Vietnam Airlines. Her fleet 919 has a total of 777 pilots, including 558 Vietnamese.
VOV/VNN
Related posts