Overview
In the ASEAN region, Vietnam will be the sixth country that have concluded a PPH with JPO, following Singapore, Philippines, Indonesia, Thailand, and Malaysia, on the basis of bilateral office agreements dated October 2015.
The PPH Pilot Program thereby will be launch on April 1, 2016 and initially, there will be a trial of 100 patent applications to test it out.
The PPH is a framework whereby a patent application whose claims have been determined to be patentable by the Office of First Filing (OFF) (an earlier examination), through a simple procedure upon request from an applicant, to undergo an accelerated examination in the Office of Second Filing (OSF). In other words, through PPH, an applicant with a corresponding Japan patent may speed up examination after it is submitted to NOIP.
Although there are two accelerated examination systems in Vietnam, including the NOIP's faster examination system and the new ASPEC system for ASEAN's jurisdiction, they have not been widely used. The reasons derived from such systems is still dependent on the NOIPs discretion and interest to speed a particular patent up; besides, the ASPEC system has only actually worked with corresponding patent application in Singapore. Therefore, with PPH, it is hopefully that will improve the current situation.
Purpose of the PPH
Through the PPH system, both National IP Offices desire to ensure that the high-quality patent protection, effective and inexpensive examination procedure will be applied and integrated with the patent prosecution highway programs in other jurisdictions, as Global PPH and IP5 Pilot Programs.
In particular, the purpose of the PPH is to enhance the utilization of the prior art search and examination results between two IP Offices, then to reduce the burden of examination.
Simultaneously, in Vietnam, the cooperation between PPH and ASPEC would not only improve its examination ability, but also promote a more expeditious and inexpensive patent protection process where workloads and unnecessary duplication of works are reduced significantly.
PPH Pilot Program's Outline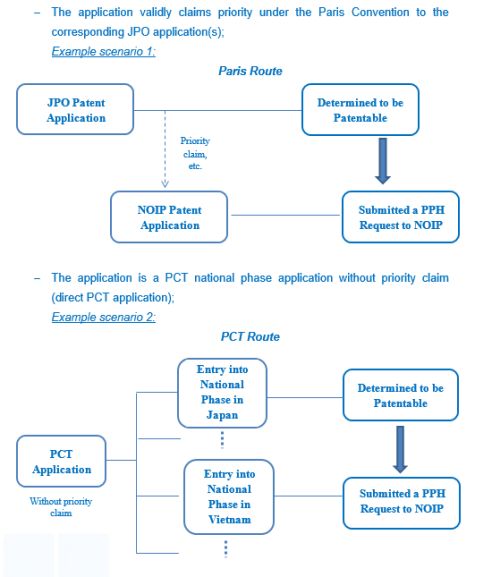 Requirements
Applications that are eligible to request for PPH are applications, which have not undergone substantive examination and filed to NOIP with a corresponding with JPO, for example: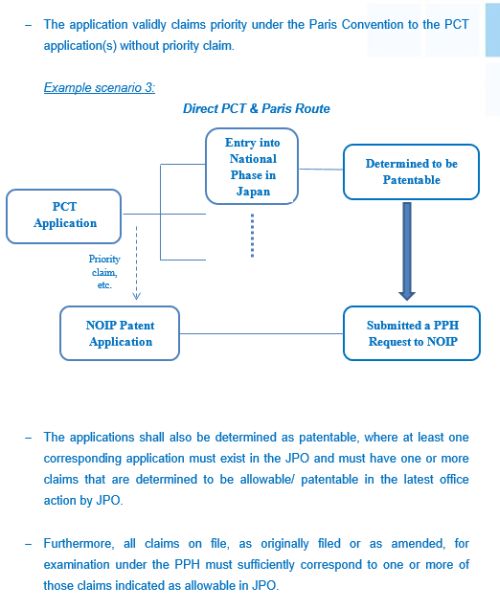 Required Documents
Along with a PPH Request Form, the following documents are required to be submitted as below:
A copy of all claims determined to be patentable by the JPO, and translations thereof (not required if these are available via the JPO dossier access system);
A copy of all office actions of the JPO, and translations thereof (not required if available via the JPO dossier access system);
Copies of all documents cited by the JPO examiner; and
Claims correspondence table, listing all claims filed to NOIP and JPO with comments in terms how they correspond to each other.